The Simien Mountains are known as the Roof of Africa. Simien Mountains National Park is a UNESCO World Heritage Site because of the many unique species of both flora and fauna found at this high altitude. Nine great rivers rise in the Simien Massif and the Bale Mountains. They bring moisture to deserts in the east, west, and north supporting many ecological niches on the way. The best known is the Blue Nile. The Nile is the longest river in the world and the Blue Nile delivers 80 percent of the flow that reaches the Mediterranean Sea.
Ethiopian Adventure Tour's Wildlife & History 16-Day tour traverses an altitude range from 985 m to 4,377 m above sea level.
Much of the western highlands of Ethiopia were covered in dry evergreen Afromontane forest and grasslands (1800 to 3000 metres). Juniperus procera and Olea europaea subsp cuspidata (African olive) are characteristic canopy trees in the more northern and drier areas. Podocarpus falcatus, Croton macrostachyus, and Ficus are found in moister regions. At the upper limits of this type of forest, Hagenia abyssinica is also present.
Juniperus Procera Cones
The highlands have been under cultivation and intensely utilized over several millennia so that the forest cover is now greatly diminished and soils heavily eroded. Unfortunately, in many places, old forest remnants are very sporadic.
In the last century, forested land cover in Ethiopia has shrunk from about 40 to 4 percent as the land was converted to food production to feed a growing population.
The good news is that, in recent decades, Ethiopians have been reforesting large areas. For over a century, this has mostly meant the mono-cultural planting of non-native eucalypts in many areas.
However, on 30 July 2019, Ethiopians made a huge leap forward by planting 353 million trees in 12 hours of national frenzy that will be talked about for a long time.
The Green Legacy Day was superbly planned, realized and was internationally acclaimed. It is to be hoped this will help restore lost habitats for Ethiopia's flora and fauna because this time most plantings are of native species.
In the central and northern-central part of the Western highlands, wooded grasslands with Acacia abyssinica and other endemic Acacia species can be found with a ground cover of grasses, sedges, and small herbs.
Acacia Abyssinica Trees
The Ethiopian flora of the Simien and Bale Mountains consists of a lower Ericaceous belt (3000 to 3200 m) and the higher alpine belt. Small trees and shrubs such as Erica arborea, Hypericum revolutum, and Rosa abyssinica are present in the Ericaceous belt, with the ground often covered in ferns, mosses, and grasses. Subshrubs and herbs include species of Alchemillia, Geranium, Anthemis, Erigeron, Helichrysum, Romulea, Senico and Thymus.
Kniphofia folios is found in moister areas and Aloe steudneri is common on dry rocky slopes in the Simien mountains.
The Afroalpine belt is characterized by the giant Lobelia rhynchoptalum, tussock grasses and sedges, species of Alchemillia and, dominating large areas, the cushion-shaped Helichrysum citrispinum.
Acacia-Commiphora woodland is found in much of the dry lowlands east of the highlands and in the Rift Valley. These drought-resistant trees and shrubs are either deciduous or have small leaves. They are characterized by a wide variety of Acacia and Commiphora species, often forming an almost complete canopy, with an understory of small shrubs.
Succulents are also prominent with numerous, mainly endemic, species of Euphorbia and Aloe. In the Rift Valley, the trees in the wooded grasslands consist almost entirely of species of flat-topped Acacia.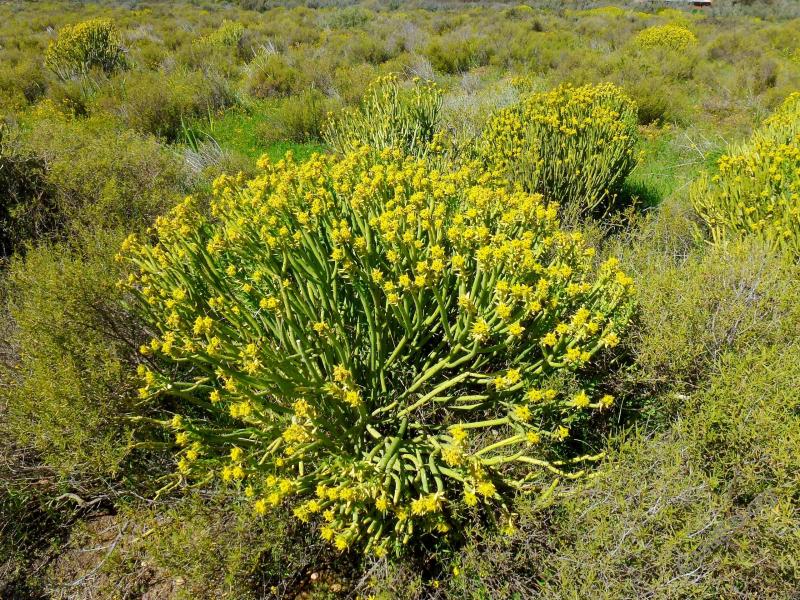 Euphorbia
Moist, evergreen, broad-leafed forest mainly survives in the southwest, in the Harenna Forest on the southern slopes of the Bale Mountains National Park and in limited forest reserves. These forests have been extensively modified into "coffee forests" with the small tree and shrub understorey cleared for the planting of coffee.
Many Ethiopians are concerned about deforestation and restoring native species in the nation's forests.
A unique aspect of traditional Ethiopian conservation is that, since the 4th century, the land surrounding Ethiopian Orthodox churches has been considered sacred. This has resulted in thousands of small hotspots of indigenous biodiversity being spared the ax or converted to agricultural land.
Emperor Zara Jacob ruled from 1434 to 1468. He established Africa's first recorded land conservation program by outlawing timber harvesting from the virgin forest at Menagesha Suba just 30 km from Addis Ababa. He ordered the planting of many native Cordia africana seedlings. The locals call them Wanza.
In 1895 Emperor Menelik II imported thousands of seedlings of eucalypts from Australia. These proliferated and seemed to offer a solution to the problem of deforestation. Now the Ethiopian government is focused on restoring native species across large areas of deforested land.
Contemporary efforts to preserve Ethiopia's biodiversity include protecting areas like the Kaffa Biosphere Reserve which is known for its wetlands and cloud forests. This Eastern Afromontane biodiversity hotspot is one of the 35 most biodiverse regions in the world with 20 of the 224 recorded plant species being endemic. It is believed to be where the Coffea arabica plants first developed.
If clients of Ethiopian Adventure Tours would like to visit Kaffa Biosphere Reserve, or indeed anywhere off the beaten track in Ethiopia, this can be arranged. We can set you up with a 4WD, driver and a trusted, English-speaking guide.
In January 2019 the 705-hectare Gullele Botanic Garden was opened just outside Addis Ababa with the aim of cultivating and distributing rare indigenous and endemic plants like Euphorbia burgeri and Erythrina burana.
Gullele Botanic Gardens will help educate a new generation of Ethiopians about the risks of deforestation and promote the ecological benefits of planting native species.